V/A - Tuonen Tytar II - A tribute to Finnish Progressive Rock of the 70's (3CD)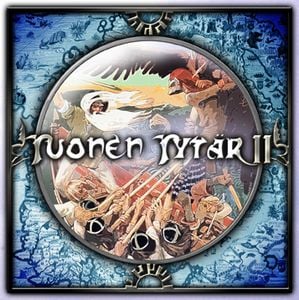 Songs / Tracks ListingCD-1
1. Atlantis (Nova) - Jinetes Negros (6:02)
2. Colossus (Wigwam) - The Samurai Of Prog (7:22)
3. Sanaton Laulu (Ffinnforest) - B612 (5:35)
4. Cheap Evening Return (Wigwam) - Tommy Eriksson (6:32)
5. Vuorellaistuja (Tabula Rasa) - Overhead (8:24)
6. Nobody Never Knows Nothing (Rockressio) - Pax Romana (3:43)
7. Last Quarters (Tasavallan Presidentti) - Kate (6:53)
8. Vanha Surullinen (Nova) - Trion (8:11)
9. Fairyport (Wigwam) - Willowglass (7:00)
CD-2
1. Lucky Golden Stripes And Starpose (Wigwam) - Contrarian (5:59)
2. For Her Son (Scarab) - Simon Says (5:58)
3. Sane Again (Wigwam) - Cristiano Roversi (3:19)
4. Praying Stone (Scarab) - Ageness (5:28)
5. Playground (Kalevala) - The Phase (3:29)
6. Delightful (Kaamos) - Jeavestone (3:39)
7. Gryf (Tabula Rasa) - Tking Dkeys (6:30)
8. Joropo Llanero (Piirpauke) - Kumina Org (3:19)
9. Boogie Jungle (Kalevala) - Piece Of Cake (5:17)
10. Paikalliset Tuulet (Ffinnforest) - Pinnacle (3:50)
11. Escape From The Storm (Kalevala) - Onségen Ensemble (5:35)
12. Down To Earth (Made In Sweden) - Karmic Jaggernaut (7:36)
CD-3
1. Gloria Deo (Haikara) - Il Fauno Di Marmo (7:15)
2. Kunnes (Ffinnforest) - Ozone Players (4:46)
3. Lost Without A Trace (Wigwam) - Yesterdays (2:37)
4. Tulen Pisara (Fantasia) - Scarlet Thread (6:47)
5. Pan (Maru & Mikael) - Mist Season (5:35)
6. Uuteen Aikaan (Scapa Flow) - Viima (4:23)
7. Impressions Of India (Jukka Tolonen) - Equilibrio Vital (4:41)
8. Koin Siipesi (Ffinnforest) - Stringpurée (6:41)
9. Takaisin Virtaan (Pekka Streng & Tasavallan Presidentti) - Kosmos (5:20)
10. Yksi Maa-Yksi Kansa (Haikara) - Haikara (12:07) (Bonus Track)
Thirty-one bands contributed to this three-CDs project, more than three hours of musical happiness!
WIGWAM, HAIKARA or KALEVALA, but also to less known finnish bands, are vowed here. As for the previous Colossus and Musea projects, drum machines are banned, and analog sounds preferred. Faithful to the Seventies spirit, the contemporary bands offer brilliant cover versions most of the time. JINETES NEGROS, OVERHEAD, WILLOWGLASS, SIMON SAYS, AGENESS, YESTERDAYS, SCARLET THREAD, EQUILIBRIO VITAL and others, celebrate timeless Progressive rock music: pure enjoyment!
Стиль: различные стили прогрессивного рока, альбом-посвящение
Издание: 2009, Musea FGBG 4816
Информация:
[Вы должны быть зарегистрированы и подключены, чтобы видеть эту ссылку]
Источник: фирменный CD-бокс
Lossless: FLAC (EAC rip, image, AccurateRIP)/CUE/LOG/Scans (600 dpi)
Объем: 400 Мб, 428 Мб, 388 Мб, 73 Мб
Очень достойный проект - посвящение финскому прогу 70-х.
Размещаю пост на всякий случай: полагаю, что у посвященных это издание в том или ином виде есть.
Последний раз редактировалось: ab3000 (Пт Сен 03, 2010 4:51 pm), всего редактировалось 1 раз(а)

ab3000




Сообщения

: 86


Дата регистрации

: 2009-09-11


Откуда

: Москва



есть уже. Шикарный диск, благодаря онному нашёл много новых групп
...это издание в том или ином виде есть.
Вот теперь в ТОМ, а не в ИНОМ виде, за что большое спасибо!

tower




Сообщения

: 549


Дата регистрации

: 2009-11-03


Возраст

: 61


Откуда

: Питер




---
Права доступа к этому форуму:
Вы
не можете
отвечать на сообщения